Whiten Your Natural Teeth for a Brighter Impression
The aging process changes the colour of your teeth. Our life habits such as the consumption of tobacco, tea, coffee or wine – as well as taking antibiotics – can all contribute to tooth colour change.
Teeth whitening offered at Waterdown Denture Clinic is a simple and effective process that lightens the enamel and dentin tint by using a simple carbamide peroxide based gel, which does not harm your natural teeth. Raymond Kulik DD likes to use Polanight Advanced Tooth Whitening System in 22% carbamide peroxide concentration. It is a high-viscosity, neutral pH take-home tooth whitening gel. This pleasantly flavoured, crystal-clear sustained release gel has a unique blend of soothers, conditioners and water content high enough to further reduce sensitivity.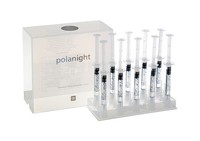 Our denturist will take impressions of your teeth and will create precise casts of them. These casts will allow us to make your personalized whitening tray. The denturist will explain how to use them with the whitening gel, how to apply the gel and with what frequency.
The duration of the obtained results will vary from person to person. It can last from a few months to several years. However, by keeping your personalized whitening trays, you can easily do touch-ups by obtaining an additional syringe of whitening product from Waterdown Denture Clinic.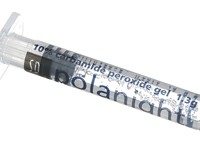 Neither tooth fillings (white fillings) nor porcelain teeth will be affected by the whitening method. Since tooth whitening works only on natural tooth enamel, it is important to evaluate the replacement of any old fillings, crowns, prostheses, etc.
"Tooth whitening is excellent for my partial denture patients. They can whiten their remaining natural teeth prior to the treatment, and then choose a lighter tooth colour/shade for their new denture."
-Raymond Kulik DD
For the majority of patients there are no side effects. However, some will experience temporary sensitivity on the teeth and/or gums. This will subside after several hours of stopping the treatment. The wear times can be shortened or made less frequent, or topical desensitizing toothpaste or gel can be used. Abstain from carbonated drinks, citrus foods and beverages to avoid sensitivity for a few hours after treatment.
Why Over-the-Counter Systems Can't Compare
"Please note that with over-the-counter bleaching systems, sensitivity is often a problem as the trays are not customized and properly fitted. The bleaching solution is not evenly distributed over the teeth, and saliva can seep in to dilute the solution. Many over-the-counter systems contain an acidic rinse, which can remove significant amounts of the tooth structure. These types of systems usually contain a lower amount of peroxide, hence they are not as strong as the solution your denturist would prescribe."
-Treatment Coordinator
Athletic Mouthguards
People should wear a mouthguard whenever they are involved in an activity with a risk of falls or head contact with other players or equipment. This includes football, baseball, basketball, soccer, hockey, skateboarding, even gymnastics. We usually think of football and hockey as the most dangerous sports for teeth, but nearly half of sport-related mouth injuries occur in basketball and baseball.
Pro-form™ mouthguards used by our Waterdown Denture Clinic are custom-fitted by our Denturist, so they protect the athletes unique oral cavity and teeth. Pro-form mouthguards are also double-laminated for superior strength and shock dispersion, which greatly dissipates the possibility of tooth damage. Pro-form mouthguards promote better articulation and mouth movement. Secure fit allows athletes confidence in commands. They are comfortable, athletes enjoy the wear and fit.
Pro-form™ mouthguards reduce airway blockage. Athletes have greater air uptake capacity and improve performance. Raymond Kulik DD will provide you with expert advice on intra oral problems, protection and concerns.
"Store-bought mouthguards are thick and clumsy in the mouth. They prohibit clear speech and reduce oxygen supply by as much as 25%. That means reduced performance."
– Treatment Coordinator
Mouthguards are important because the average cost dental treatment over a lifetime for one tooth lost is approximately $5,000. When it comes to sports equipment, mouthguards are a priority. They protect not only teeth, but the lips, cheeks, and tongue. They also help protect a person from concussions and jaw fractures.
For more information on the merits and types of mouthguards, take a look at these websites:
Protect yourself and/or your child NOW! Call us today and book your free 30-minute consultation. Looking for a Denturist in Burlington?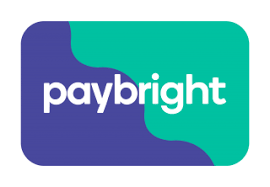 GET INSTANT FINANCING WITH PayBright
NEW PATIENT FORMS
Simply download our forms and bring them in with you
FREE CONSULTATION
Book it NOW! or ask a question
BURLINGTON LOCATION
For your convenience, we can see you @Fielding Dental Healthcare