Tooth Loss and Dentures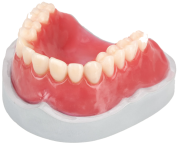 For many who are missing some or all of their teeth, dentures are a true gift, not only do dentures make you look younger and more vital – vastly improving your smile and overall attractiveness – but they also help you eat normally and speak without impediments, hence improving your overall health and quality of life.
As an oral health care specialist, our denturist, Raymond Kulik DD, offers various types of dentures to satisfy each patient's specific requirements: standard dentures, precision dentures, immediate dentures, implant dentures and partial dentures.
Tooth Loss Makes You Look Older
Having gaps in your mouth where teeth once were can make you appear older than you are. Waterdown Denture Clinic® can improve your smile and reduce the appearance of premature aging.
With or without teeth, your mouth slowly changes as you age. But people who have no teeth lose 1/3 mm of jawbone height each year, on average. Sometimes that loss is greater due to certain medical conditions such as osteoporosis. As your jawbone shrinks, so do your gum tissues (ridges). Ridges can shrink up to a 1/4 inch in 10 years.
When teeth are lost and gum tissues shrink, some facial support is lost. This explains why people with no teeth often have deep wrinkles around the mouth and a sunken look to their cheeks and lower face, with the chin and the nose growing closer to each other. Even if you already have dentures, the appearance of premature aging can be caused by:
Artificial looking, non-reflective denture teeth
Stained teeth
Chipped or broken teeth
Dull cutting edges that lead to shrinkage of underlying bony structures and difficult in chewing food
Excessively worn or missing posterior (back) teeth promote wrinkles around the mouth
Call us today and schedule a free 30-minute consultation.